Spring Lecture Scheduled for March 22
The Dallas Genealogical Society invites you to join us for a one‐day workshop featuring Laura G. Prescott, a professional researcher, writer, and speaker.
Laura is past president of the Association of Professional Genealogists and a consultant for Fold3.com. Her specialties include the use of manuscripts in genealogical research, genealogy on the internet, online military records, and merging history with genealogy.
---
2014 DGS Writing Contest
The Dallas Genealogical Society is pleased to announce its 2014 Writing Contest for original material on topics of interest to genealogists and family historians. The contest is open to members and non- members of the DGS. Hobbyists, transitional, and professional genealogists are welcome to submit entries. Submissions may include genealogies, family histories, and case studies that demonstrate use of genealogical methodology, techniques, and sources.
First prize is $500, second prize is $300 and third prize is $150. Winning entries are eligible to be published in a future edition of Pegasus: Journal of the Dallas Genealogical Society. See the Press Release, the Rules and Guidelines and the Entry Form for more information.
---
2013 Awards Winners
The Dallas Genealogical Society announced their Annual Awards and Writing Contest winners at the Annual Awards Luncheon on December 14, 2013. Congratulations to everybody!
January-March 2014 DGS Newsletter Available Now!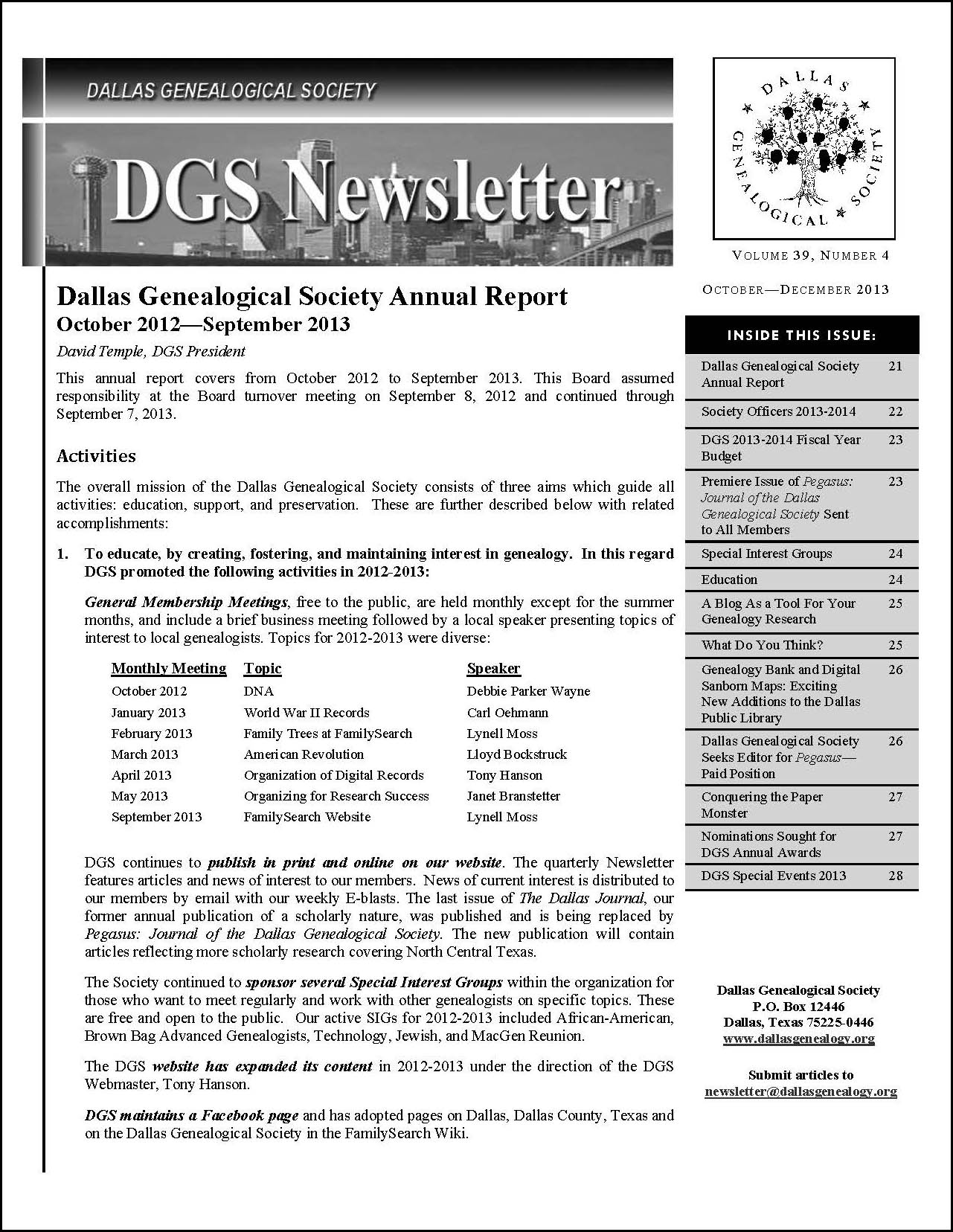 Current and archived editions of the DGS Newsletter are available by clicking on Resources, then Newsletters. Note that all newsletters are now available to the general public: a UserID/Password is no longer required to view the current newsletter.
---